History of our School
"Let your light shine." Matthew 5:16
The photographs below were received from a past pupil Fred Smith, who attended Broadbottom School in 1937.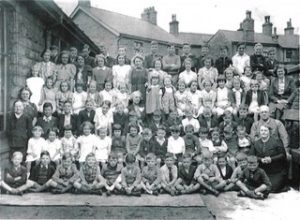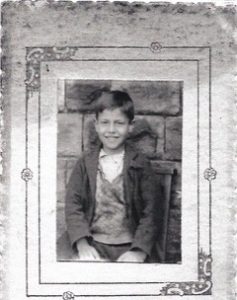 Photograph of the whole school in 1937, (including Fred).                        Fred Smith – 1937 School photograph
Click on the link below to find out about Cyril Isted and Fred Smith during their time at Broadbottom Primary School:
Broadbottom Evacuee and Ex-pupil
Excerpt taken from the book 'School days in Mottram Parish', edited by A.J. Rees
Edward Chapman gave a small piece of land next to St. Mary Magdalene Church for a new Mixed School in 1896.  When this site proved unsuitable for building, he gave another small piece next to it.  The first bit of land next to the church is still the playground, the second piece contains the present school building.  It is a stone building with a slate roof, like the rest of Broadbottom.
The first Headteacher at Broadbottom was Mr George Ogden, who is pictured on the far left of the photograph taken when the school first opened on 11th January 1898.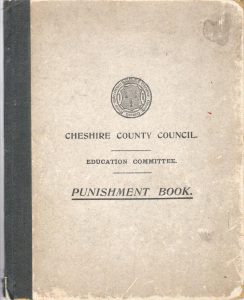 Mr Ogden was a strict disciplinarian and in those days corporal punishment was used to keep the children well behaved.
To the left is a copy of the book.
Headteachers of Broadbottom C of E Primary School:
George Ogden           1898 – 1924
Annie Upson              1924 – 1925
Lily Horobin                1925 – 1940
Edith Evans                1940 – 1967
Margaret McCallum   1967 – 1986
Pamela Kelshaw        1986 – 1997
Jo Fallon                    1997 – 2005
Esther Bland              2005 – 2018
Joanne Marrow          2018 – present day