Christianity
"Let your light shine."  Matthew 5:16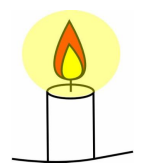 We have strong links with our local parish church St Michael's and All Angels, Mottram.
http://www.mottramparish.org.uk/
At Broadbottom C of E Primary we celebrate uniqueness and diversity, whilst being extremely proud of our Christian Community School.
Our rich, colourful and creative curriculum is underpinned by Christian and British values, friendship family, worship and fun.
Click the link to view our Mission Statement 2020
Chester Cathedral
Each year the diocese invite Year 6 leavers to attend a service of thanksgiving.  Five hundred pupils  joined together to share the experience this July. The theme was 'Aspirations and Hope'. We took a 3D model of the school logo to represent our school during the service. Two pupils carried our  banner as part of a procession, with other schools which was received with lots of positive comments.  One of our pupils was chosen from all the schools, to help  the Director of Education, Chris Penn and participate in part of the service. We were very proud that a pupil from Broadbottom had this wonderful opportunity.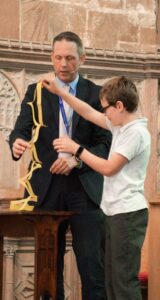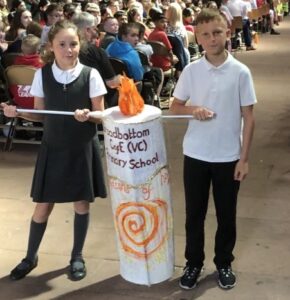 Overseas Charity
This year we chose 'Sightsavers' as our overseas charity. The JLT made this decision because we love reading at Broadbottom and the pupils were horrified to find that some children are afflicted by poor vision.
Click below to see the power point produced by the pupils.
Courageous Advocacy
Blue Class Looked at different types of energy. This artwork reflects green, clean energy and a move away from fossil fuels. We are courageous advocates for our environment by trying to use less energy in school and at home.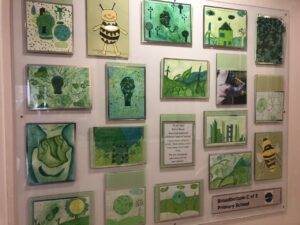 Stations of the Cross
We produced a beautiful installation for Holy Week, taken from Matthew 26:34, where Peter denies knowing Jesus.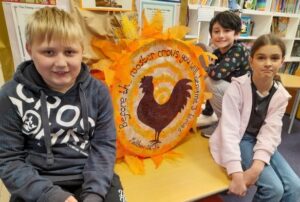 Click on the link below to see our art installation in the church.
Parish of Mottram in Longdendale | Photos (mottramparish.org.uk)